With the advancement of technology, the functions of electronic products are becoming more and more powerful. As a carrier PCB that realizes its functions, it is also becoming more complex and diverse. Of course, the manual soldering no longer meet the needs of the market, whether it is for small batch assembly production line or R&D prototyping. On some PCBs, there are even hundreds of components. So automatic pick and place machine is especially essential in your mounting work, it's high precision and time save, bring you higher output. 
Choose ITECH desktop SMT pick and place machine PPM-A320VB, as long as you want, you can organize it and mount around 70-80 components on each PCB.
The standard machine with 54pcs reel feeder support (Configuration change is possible)
Left feeder is 30*8mm
Right feeder is 10*8mm, 8*12mm, 4*16mm, 2*24mm
1 Big IC tray
It's flexible, you can divide it to several small trays. Or DIY the tube feeders as follows (Below picture from one of our customer)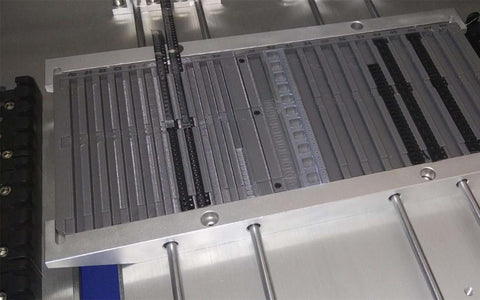 10 front tray (Pls check the youtube video, which shows QNF144 mounting)
Vibratory feeder with 5 channels (for option, in the compensatory basis).
( If you want to know how to install the vibratory feeder)
Nothing is impossible, As long as you dare to imagine and have the action.
DIY your pick and place machine freely and enjoy it! :")
Pls contact us if you would like more details.