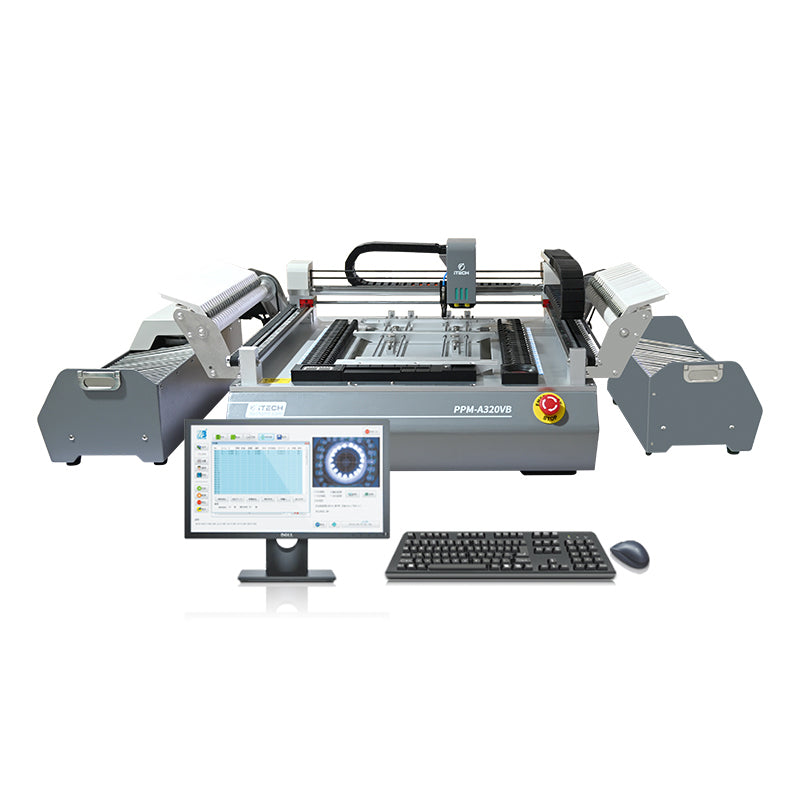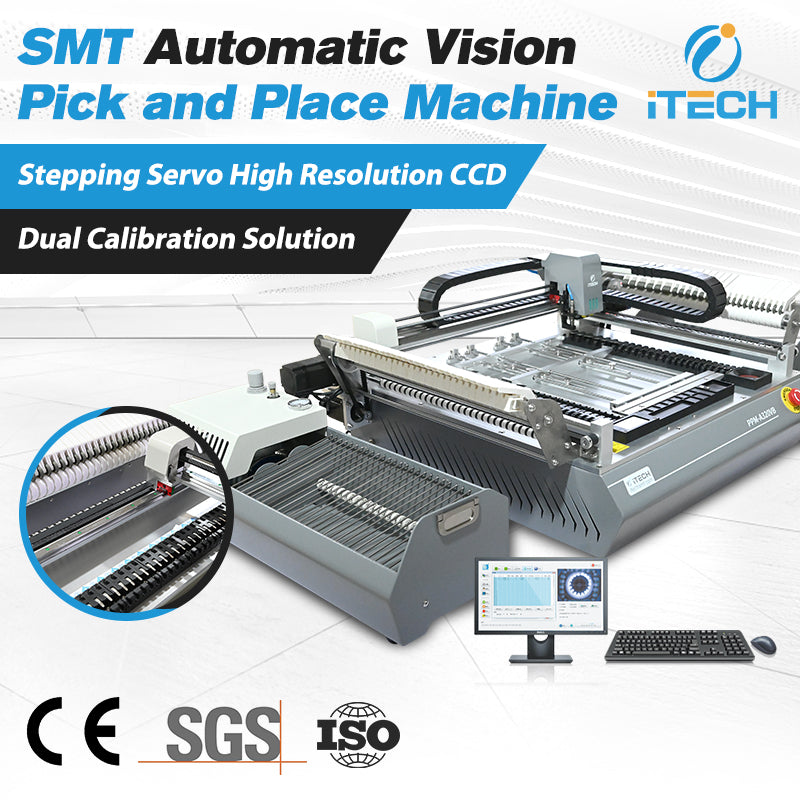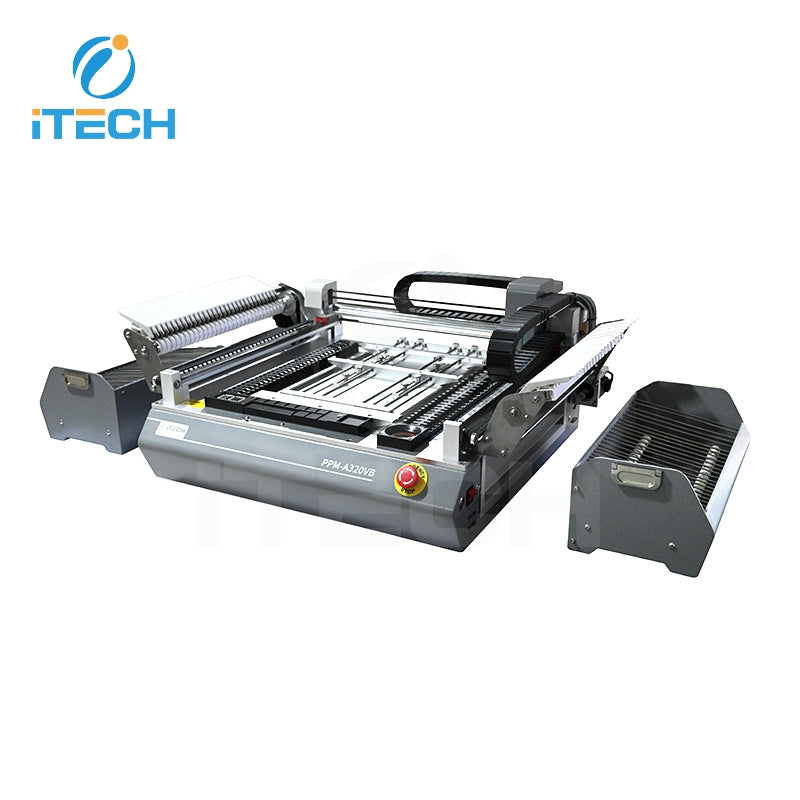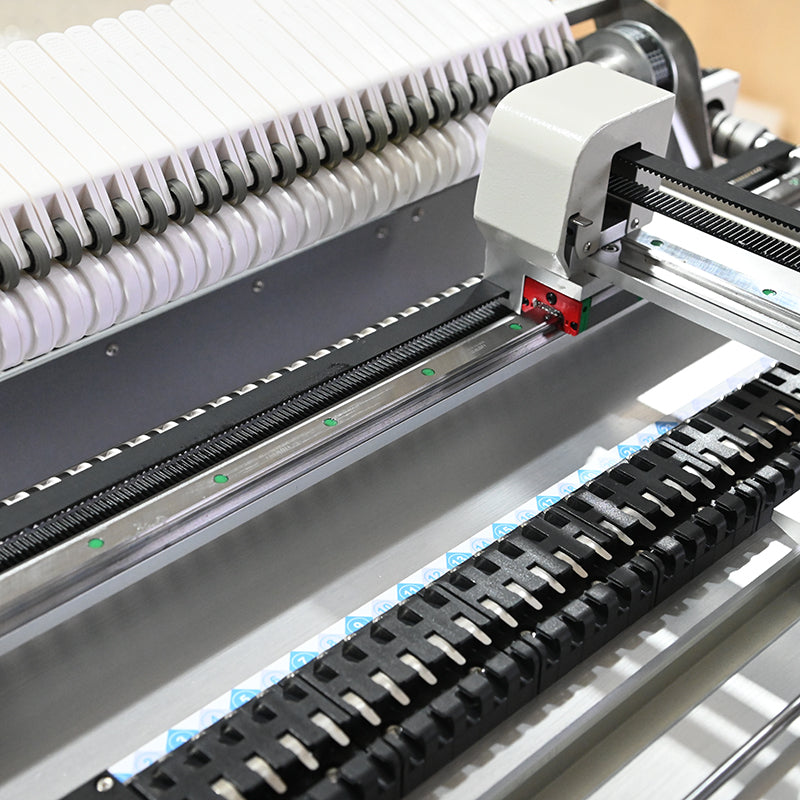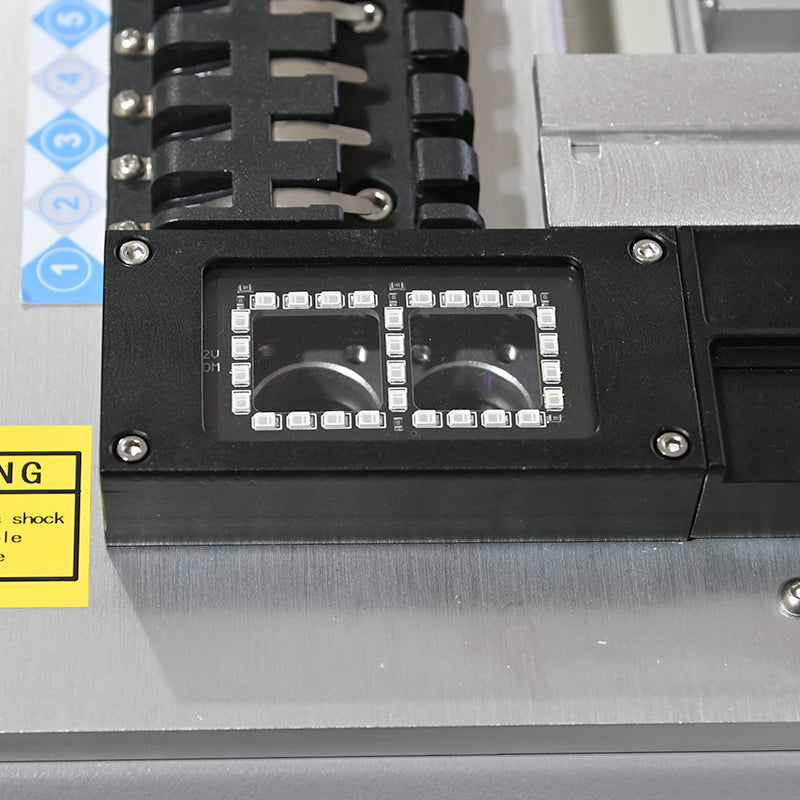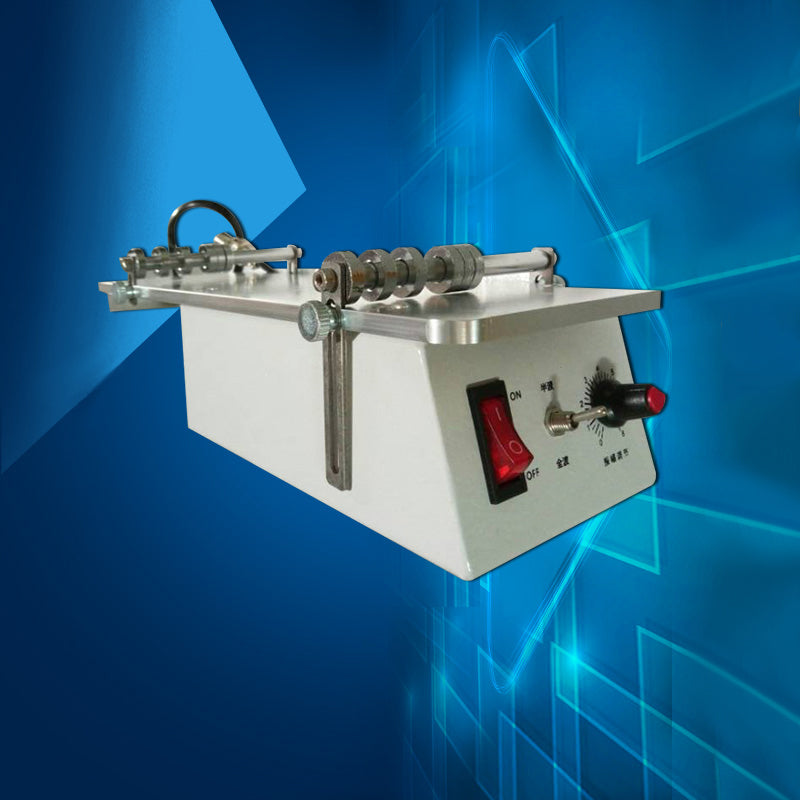 iTECH PPM-A320VB SMT Pick and Place Machine Chip Mounter
Accessories:
Without Vibratory Feeder
Style:
PPM-A320VB Without Cover
Pickup available at Factory
Usually ready in 2-4 days
iTECH PPM-A320VB SMT Pick and Place Machine Chip Mounter
Without Vibratory Feeder / PPM-A320VB Without Cover
Factory
Pickup available, usually ready in 2-4 days
NO.1,Shanha Road Nanming Mountain Street, Liandu District, Li Shui Shi
323000 Zhejiang
China
Factory Wenzhou
Pickup available, usually ready in 2-4 days
6/F, International Chamber of Commerce Building, Renhui Road, Ouhai District Wenzhou
325000 Zhejiang
China
HIGH SPEED MINI DESKTOP PICK AND PLACE MACHINE FOR PCB ASSEMBLY LINE
High Precision small pick and place machine helps you with your SMT component placement needs. Electronic designers and engineers across the globe use the machine for various electronics assembly. It is a proven workhorse at small startups, big labs and universities. 
Unlike the other desktop pick and place machines from some suppliers, PPM-A320VB comes with reel feeder. You don't have to pay more for the expensive feeders. In addition to reel feeders, the PCB pick and place machine can handle tube-packaged components with vibratory feeder(for option, in the compensatory basis). This is low cost smt pick and place machine, loved by electronics enthusiasts.
Vision system - upwards and downwards cameras
High precision mounting performance
Dual mounting heads 360°rotation
Built-in PC, remote support
Stepper servo motor
Double mark point recognition
Linear guide, more stable
Pneumatic pin and wider belt, more durable
54pcs reel feeders
IC tray support
Vibratory feeder for option
For more details, pls check the Specification and Brochure

WANT CHEAPER PRICE??? PLEASE CONTACT US (rose@itechsmt. com) TO CHECK CHEAP SHIPPING COST DDP TO YOUR DOOR, FREE TAX.
Model: PPM-A320VB
Mounting Numbers: 2PCS
Mounting Precision: 0.025mm
Mounting Angle: 0~360°
Mounting Speed: 5500pcs/hour
Suction Nozzle Type: Juki Series Nozzle
Applicable Element:
RC (0402, 0603, 0805, 1206 etc)
LED Lamp Beads (0603, 0805, 3014, 5050 etc)
Chip (SOT, SOP, QFN, BGA etc)
SMD Height: ≤5.5mm (Customize ≤11mm)
PCB Minimal Size: 10×10mm
PCB Maximum Size: 320×450mm
PCB Thickness: ≤2mm
Components Reel Type: 8mm, 12mm, 16mm, 24mm
Front IC Location: 10pcs
Back IC Tray: 1pc
Vibration Stick Feeder: iTECH Customized Feeder (Optional)
X/Y Axis Moving Range: 430×530mm
Z Axis Moving Range: 10mm
Z Axis Rotation Angle: 0~360°
Visual Camera: CCD High-definition Camera
Numbers of Visual: Parts Camera×3, PCB Camera×1
Recognition Capability: MAX. 22×22mm
PC System: Microsoft WIN7
Operational Software: R & D
Compatible File Format: CSV. TXT. Format
Program Method: Support Online and Offline Ways
Air Pressure: 0.4Mpa
Vacuity Degree: -66kpa
Power: 230W
Voltage: AC220V±10% 50Hz
Net Weight: 85kgs
Gross Weight: 114kgs
Machine body Size: L990×W730×H375mm
1#Materials Feeder Outline Size: L235×W700×H245mm
2#Materials Feeder Outline Size: L235×W485×H245mm
Package Dimension: 1340*840*590mm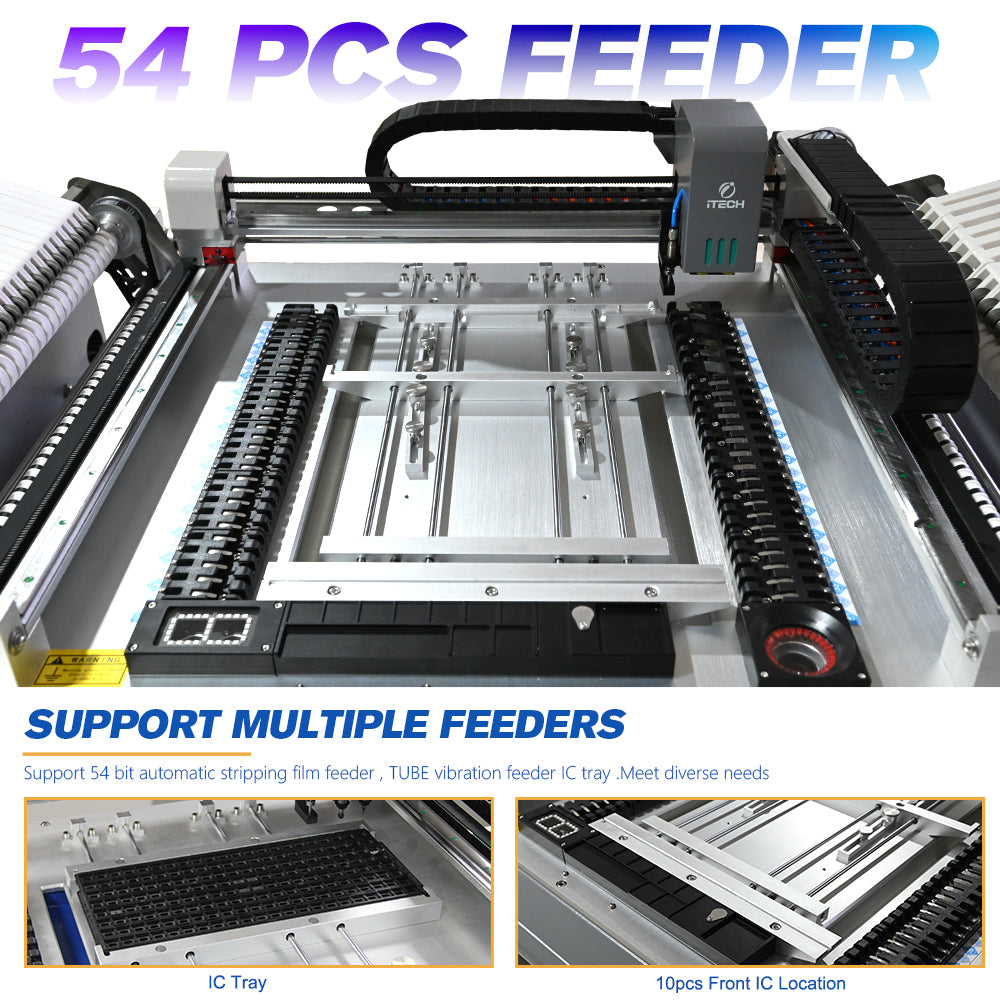 54PCS MORE FEEDER SUPPORT
A. Left side: 30*8mm; Right side: 10*8mm, 8*12mm, 4*16mm, 2*24mm. TOTAL: 54PCS
B. 1PC Big IC Tray support
C.10PCS Small Front Tray support
D. 1PC Virbatory Feeder with 5 channels for option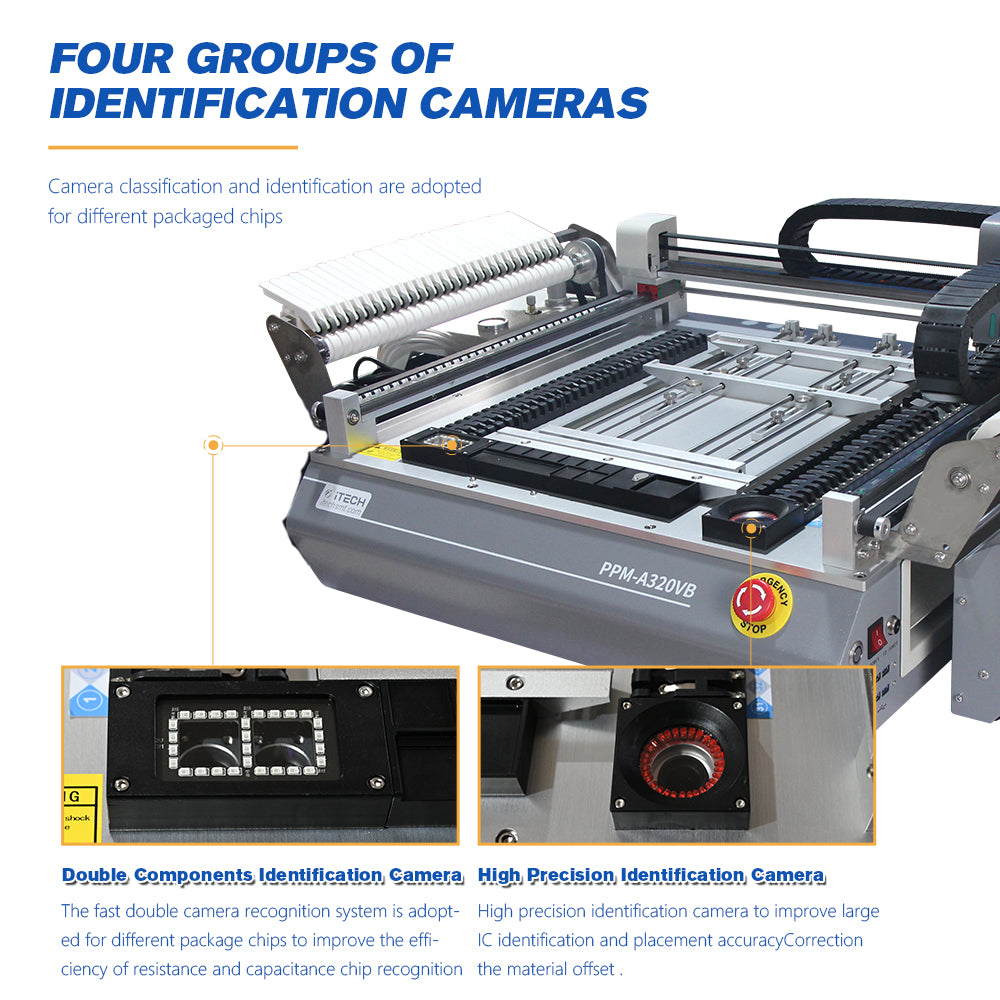 4PCS CAMERAS
2pcs RC Cameras +1pc HD Camera + 1pc PCB Camera = TOTAL 4PCS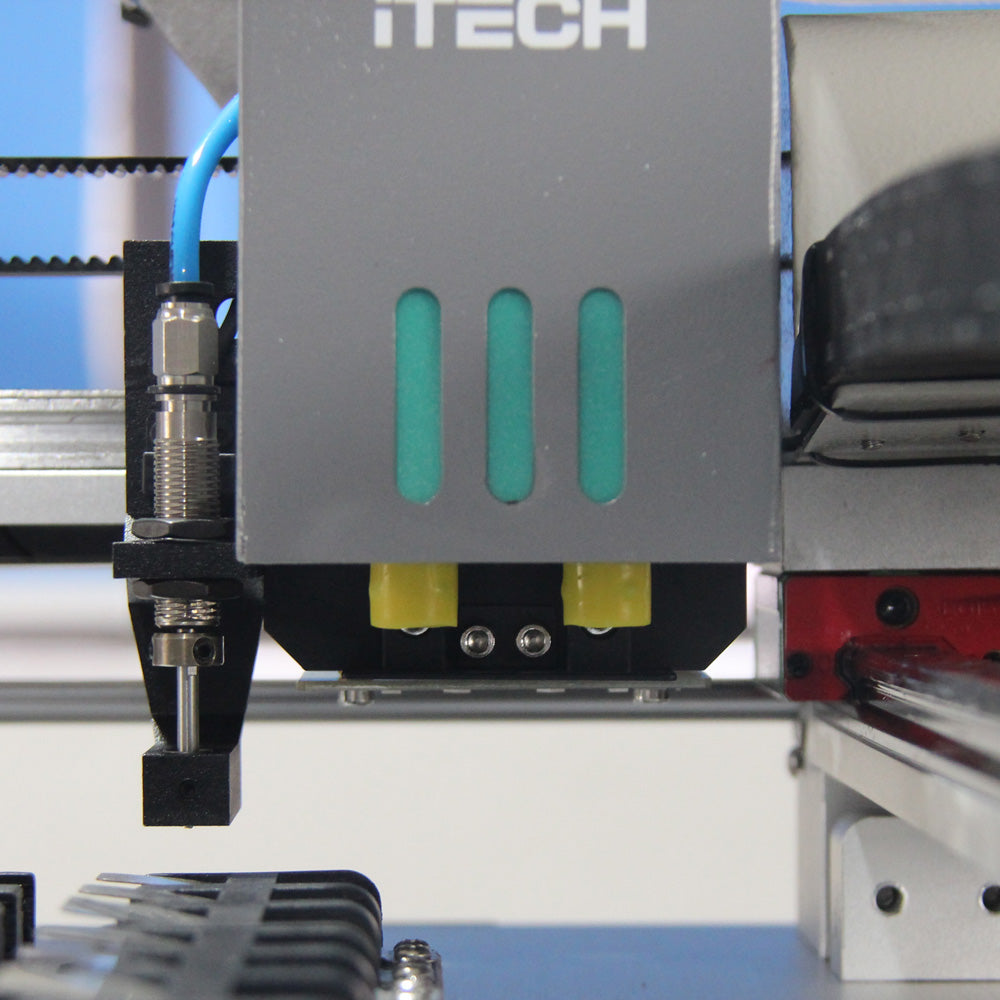 DOUBLE MOUNTING HEADS
Faster Mounting Ability for micro components and integrated IC components.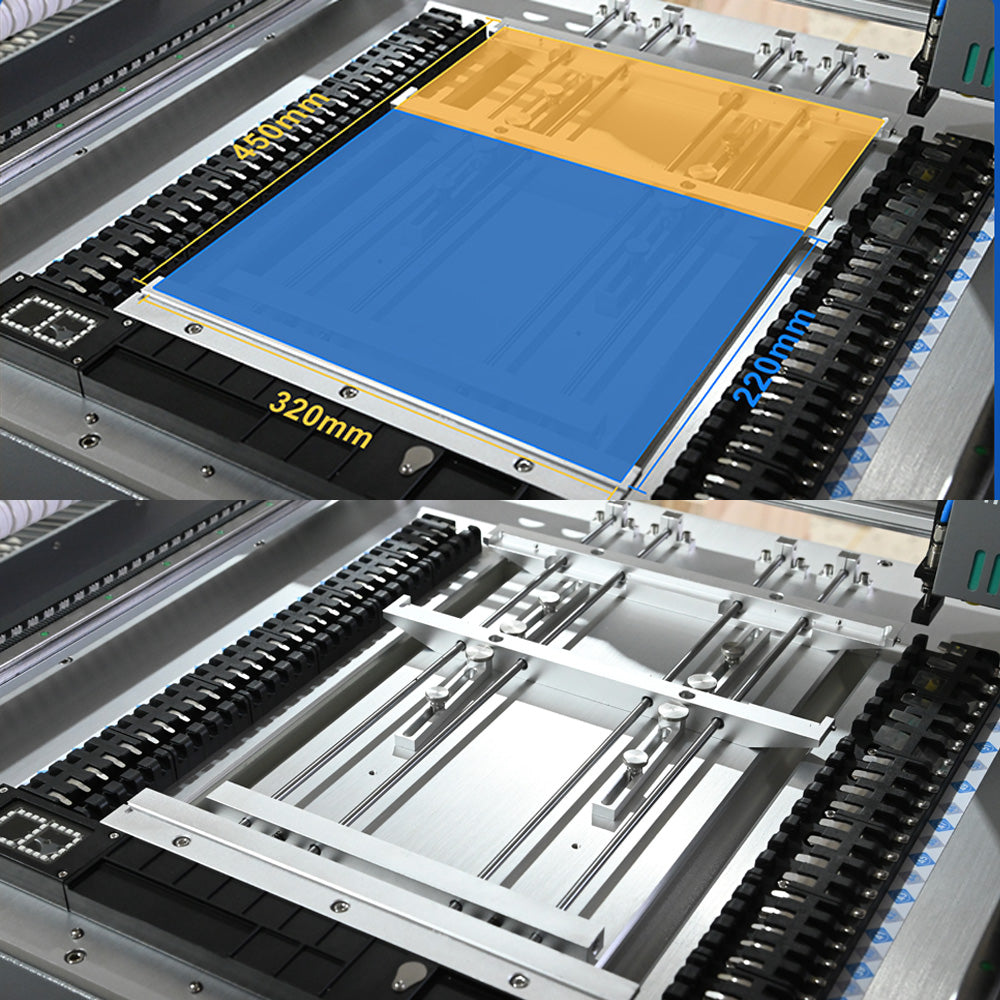 FLEXIABLE CLAMPING MECHANISM
The PCB holder can be easily adjusted for different PCB sizes. Support PCB Max. size 320*450mm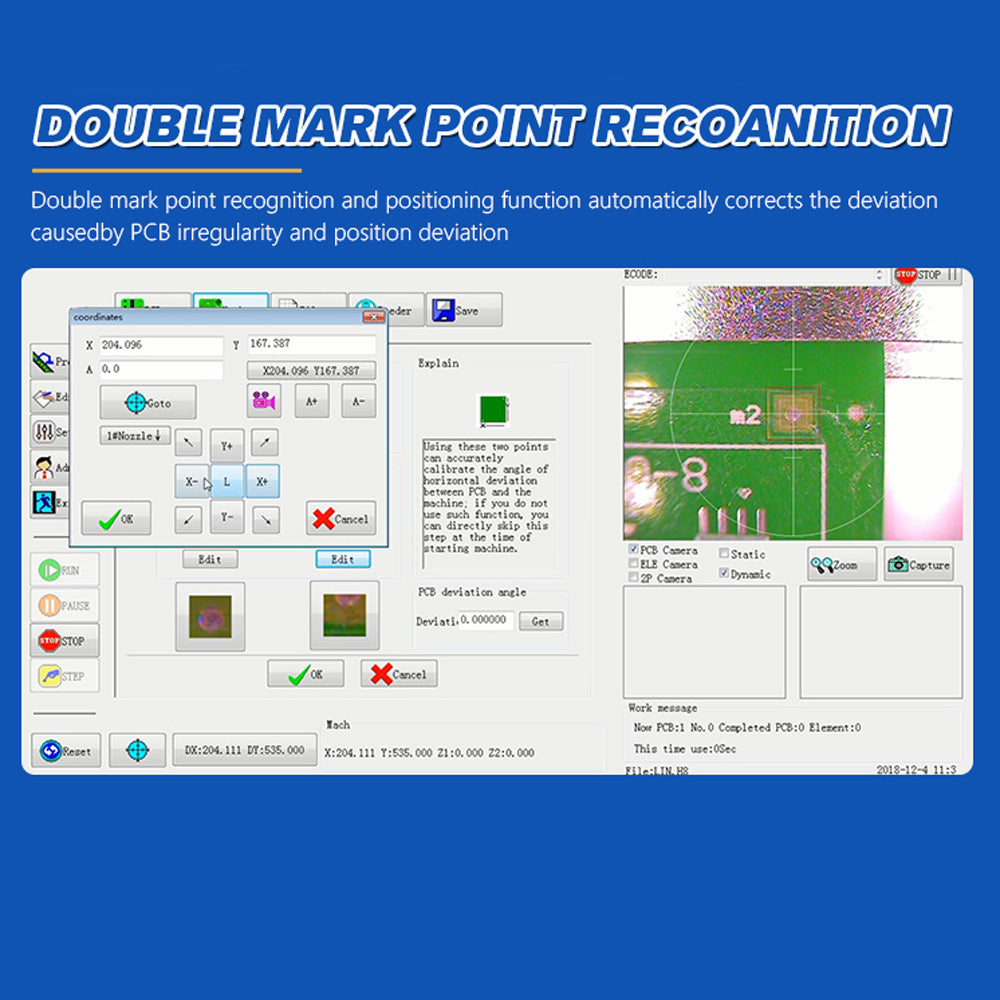 Double Mark Point Recognition
Double mark point recognition and positioning function automatically corrects the deviation causedby PCB irregularity and position deviation.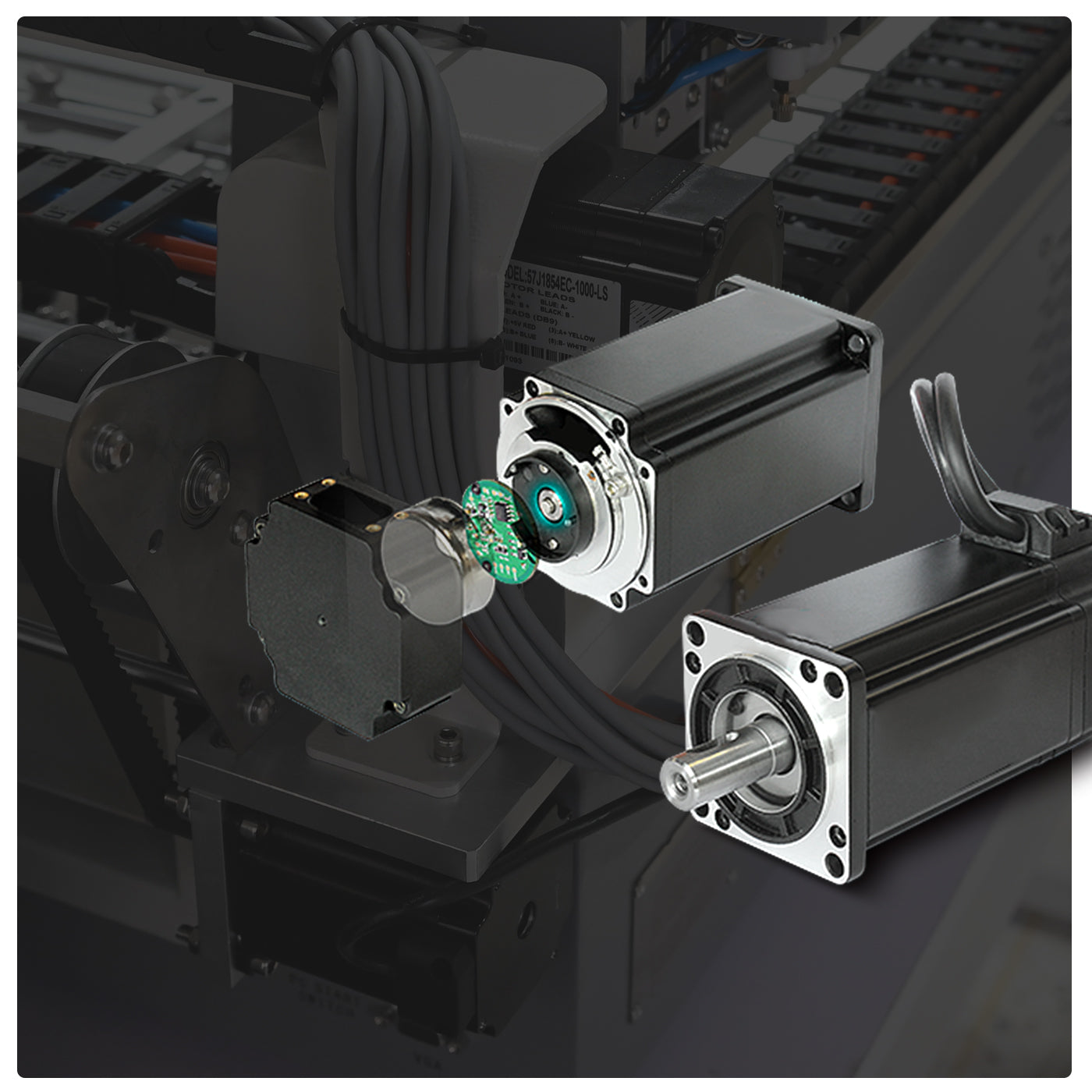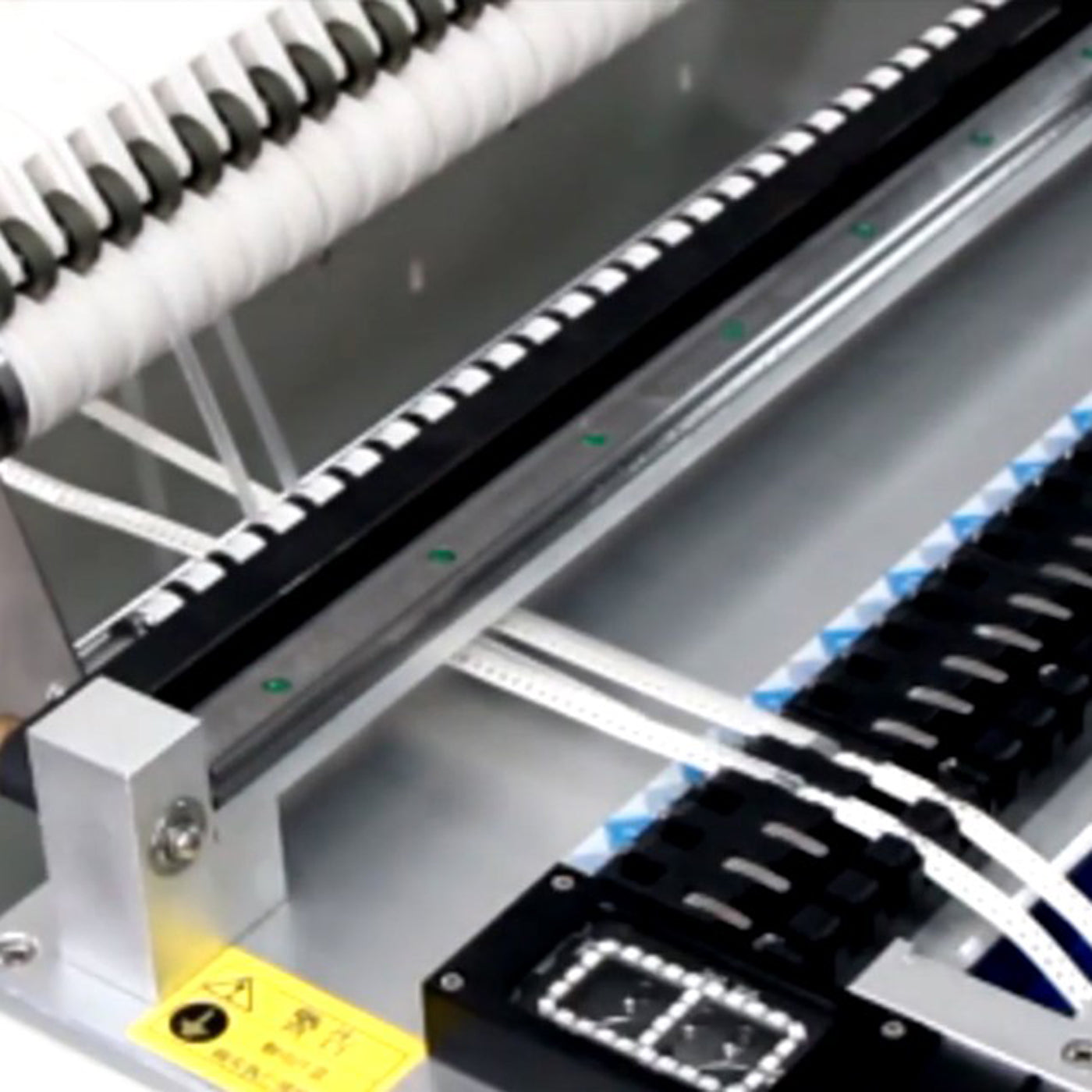 STEP SERVO MOTOR
The closed-loop control system of position, velocity and torque perfectly solve the out of step problem which caused by the stepper motor. Eventually achieved high precision positioning and mooth low speed operation requirements.
FEEDER SYSTEM
Independent R&D pneumatic feeding system. The film collecting mechanism is similar to the feeding feeder on the imported machine, and the film is collected in a wheel type, which is not easy to jam and is convenient to change.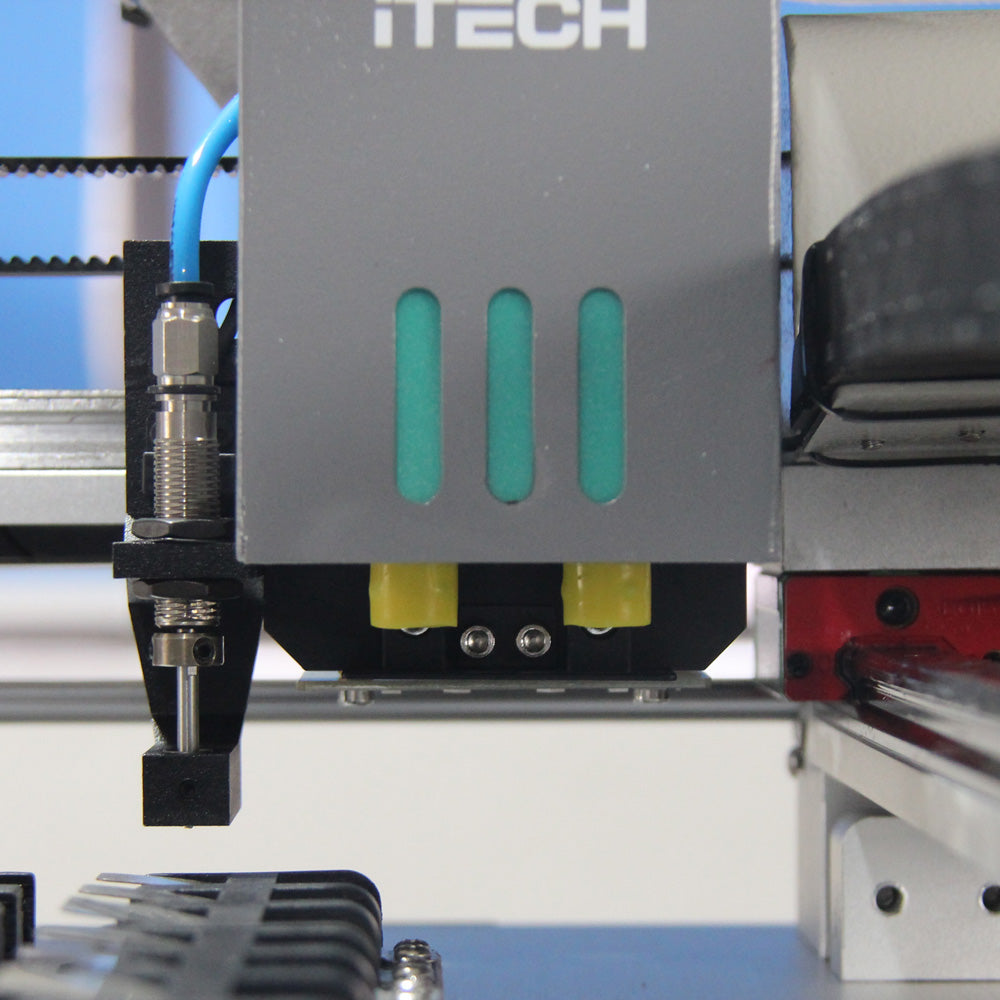 PNEUMATIC PULLING NEEDLE 
With Built-in Air Comperssor. The pulling pin is driven by pneumatic, It is not prone to be getting stuck due to long-term use.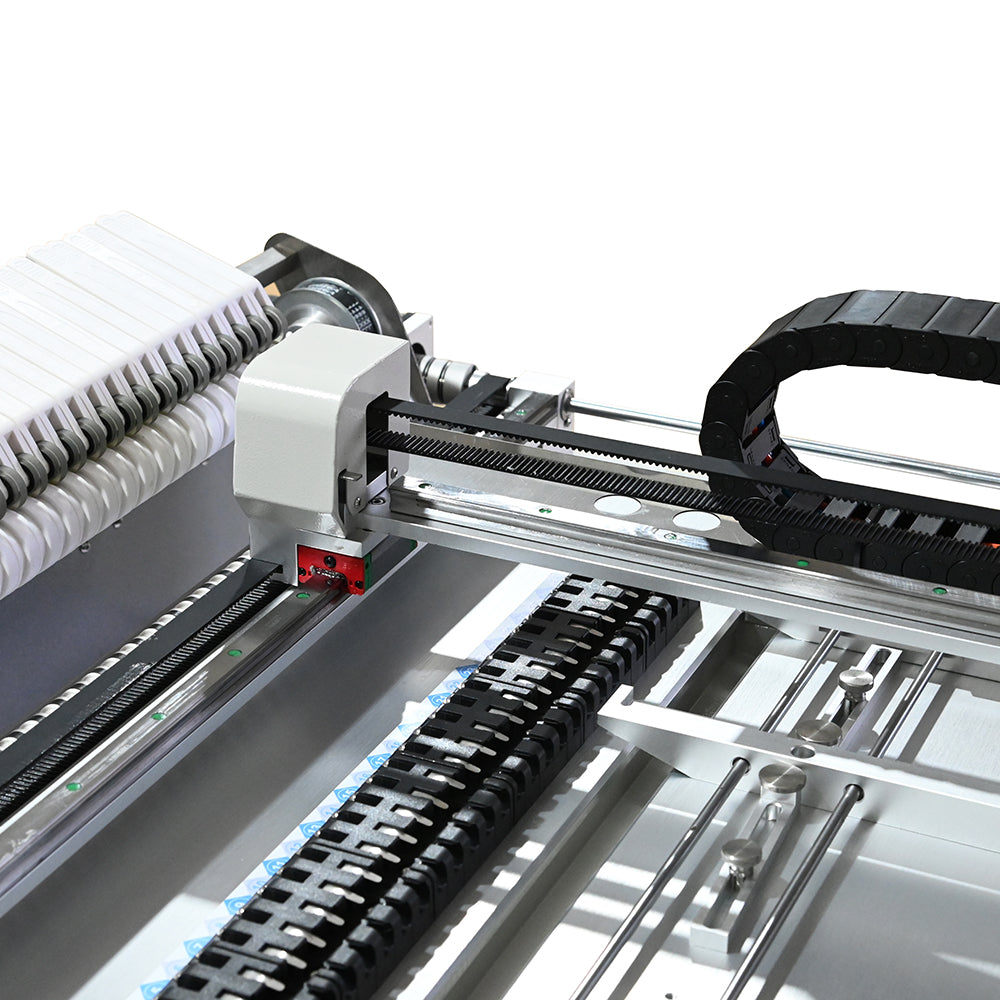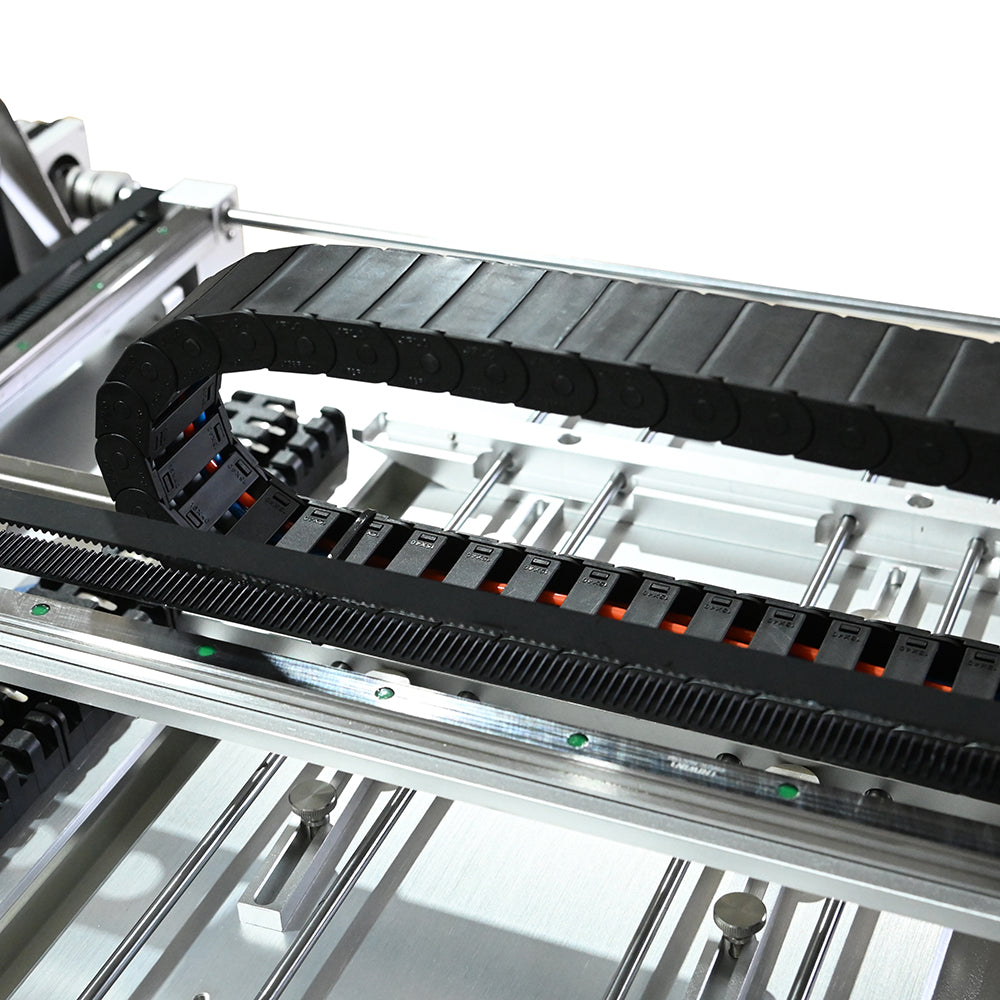 TAIWAN HIWIN LINEAR RAILS
Movements along the axes are guided by Taiwan HIWIN high precision linear rails, ensuring the accuracy and repeatability each pick and place
WIDER TRANSMISSION BELT
Adopts 15mm width Japan UNITTA transmission belt. More durable. The stable belt is not easy to deform and stretch, ensuring the machine with high precision mounting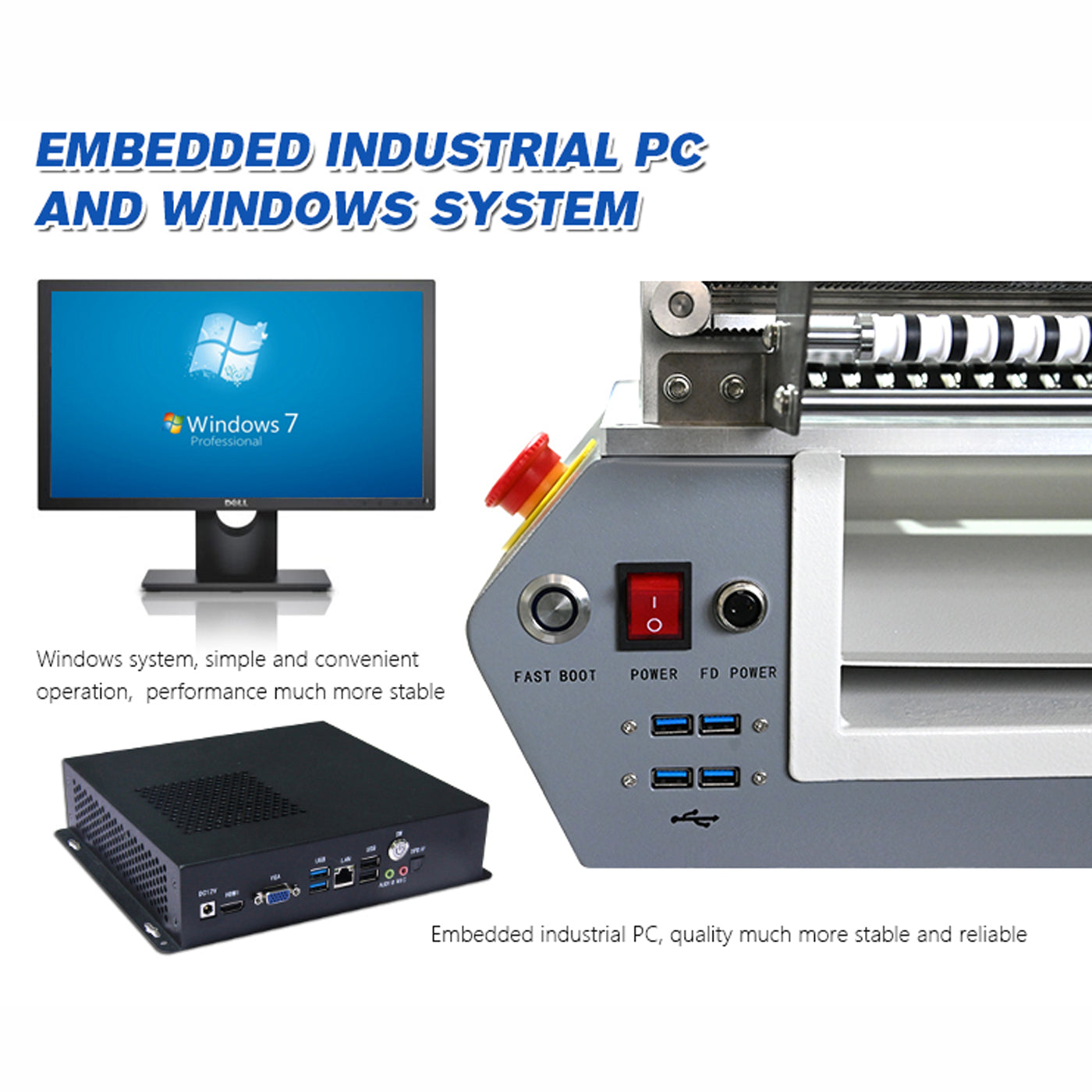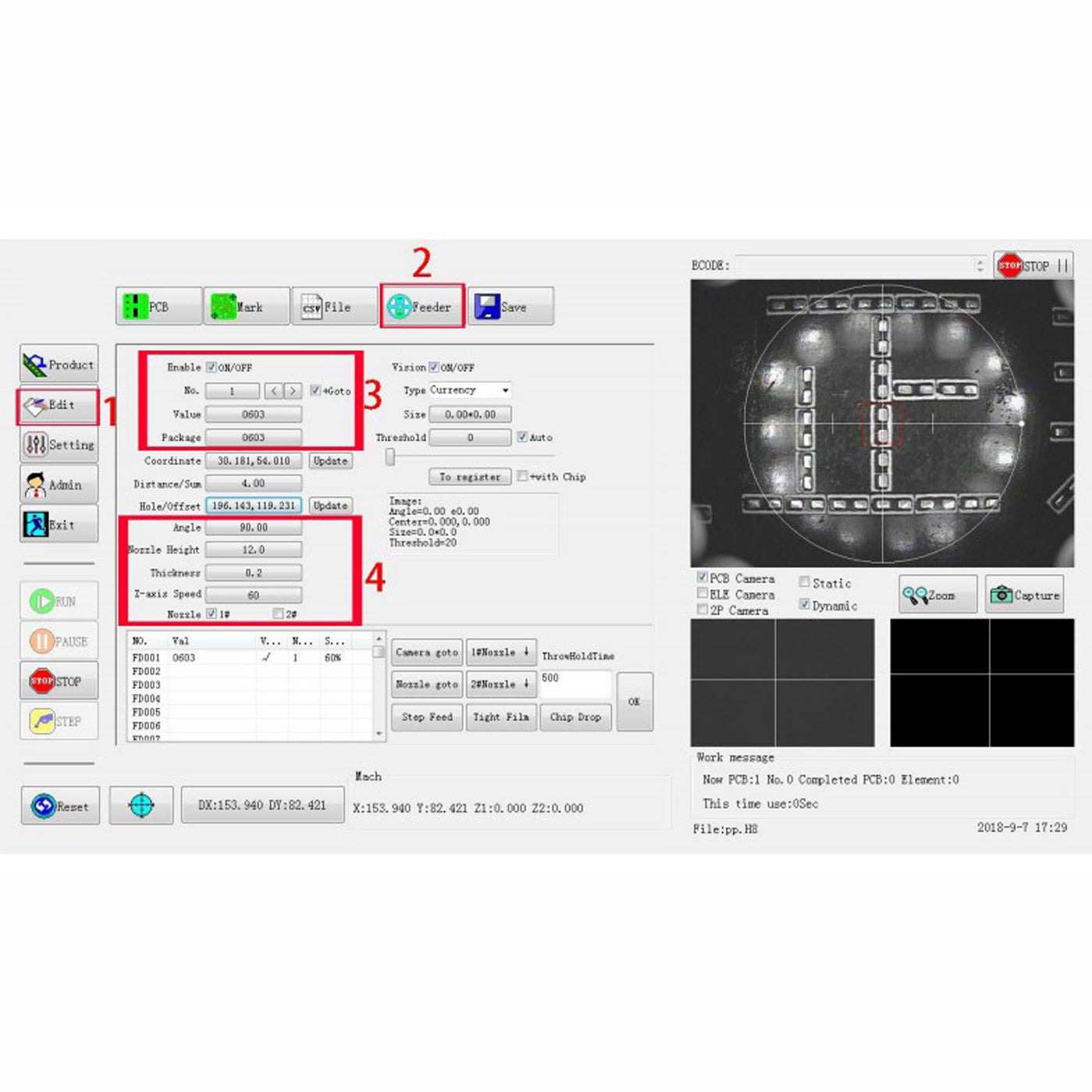 BUILT-IN INDUSTRIAL PC
Equipped with one full set of built-in industrial PC, Monitor, Keyboard and Mouse. Use the PNP machine freely just plug in the power.
The build-in PC achieve the possibility of remote control service.
USER FRIENDLY SOFTWARE
Our Self-developed Pick and Place Software is friendly for starter. The intuitive, step-by-step user interface will guide you through the entire process.
MOUNTING EFFECT
Give You Accurate Mounting at High Speed.
Everyone has many years of international trade experience, we communicate with customers in time and earnestly
Get A Free Coupon Now
Welcome to contact us through below contacts form, and get a free coupon $200 now.