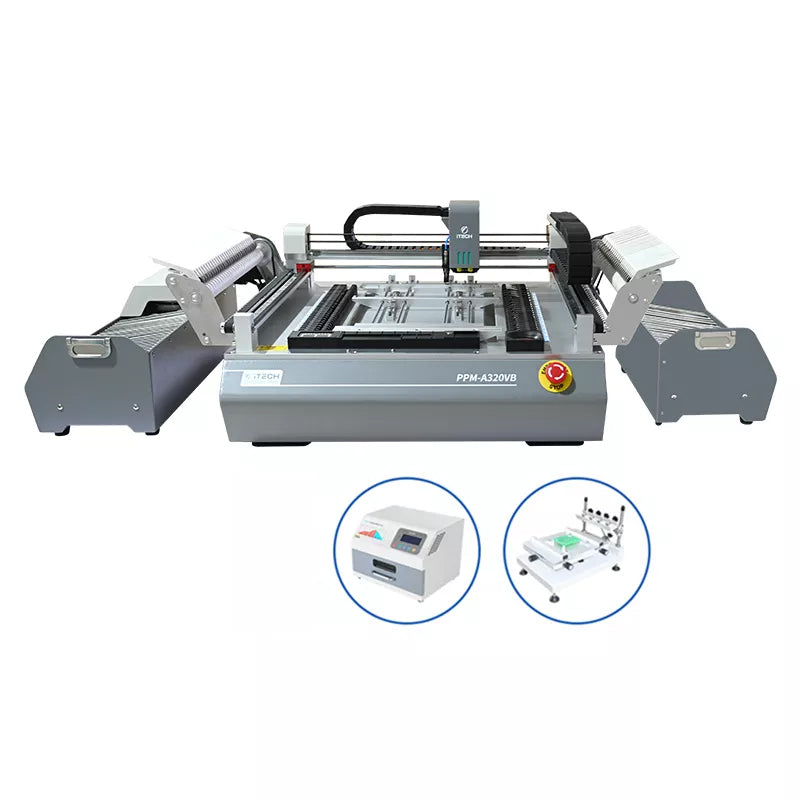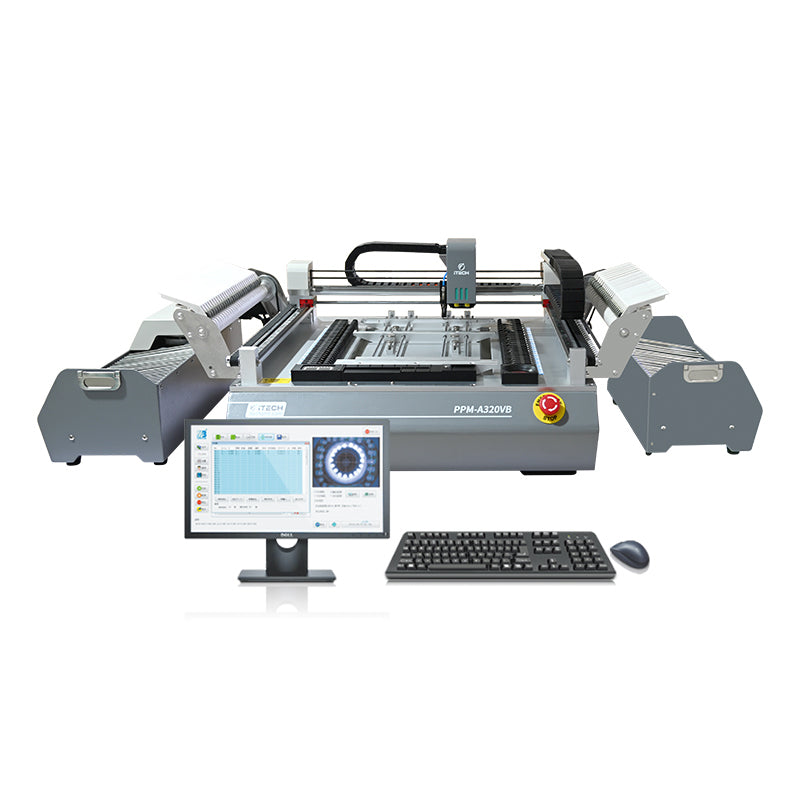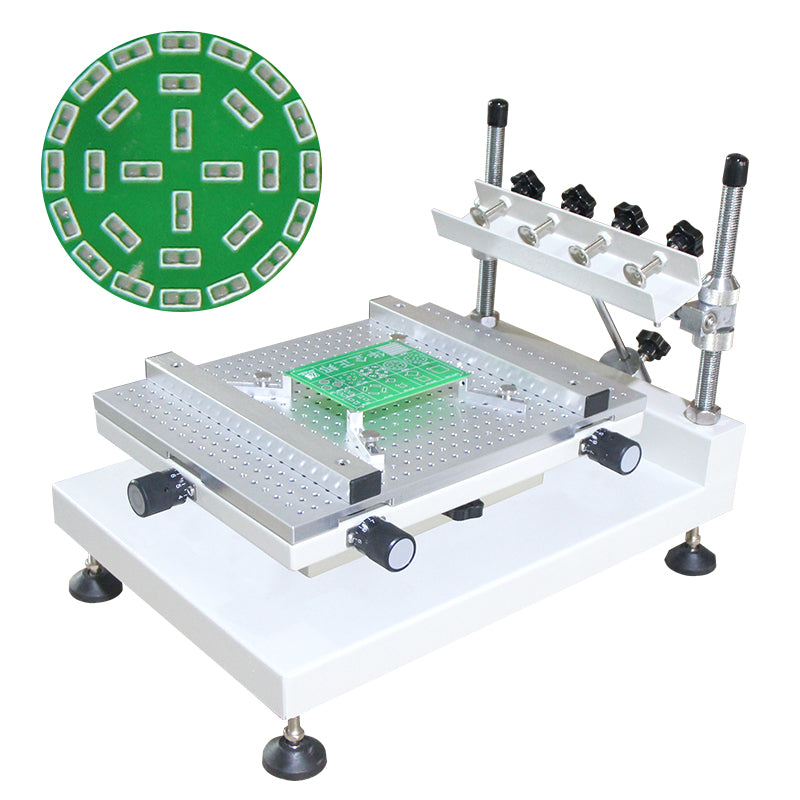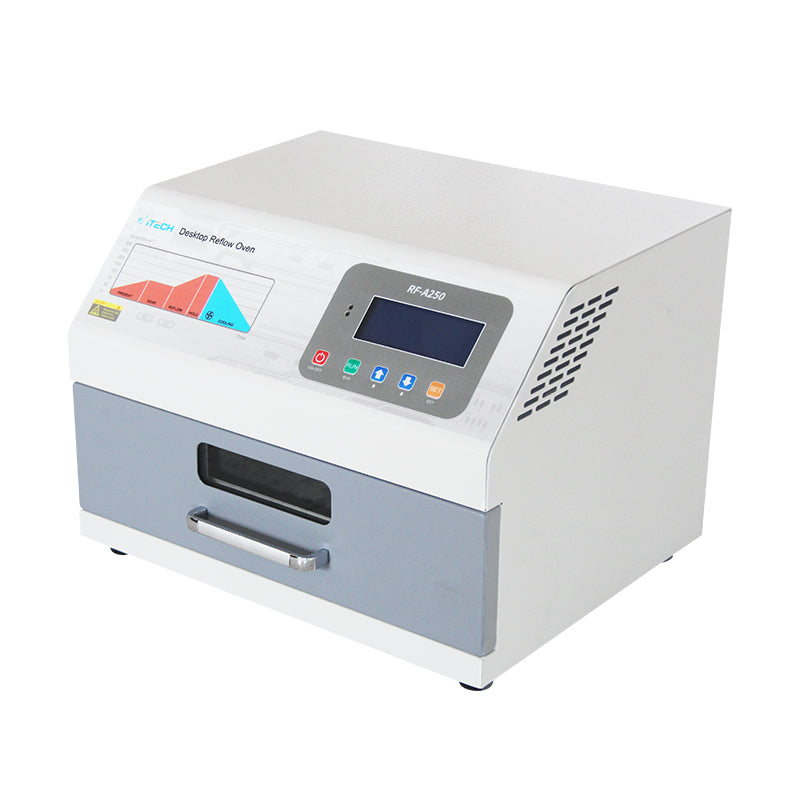 Pick and Place Machine / Mini Reflow Oven / SMT Machine
Pickup available at Factory
Usually ready in 2-4 days
Pick and Place Machine / Mini Reflow Oven / SMT Machine
Factory
Pickup available, usually ready in 2-4 days
NO.1,Shanha Road Nanming Mountain Street, Liandu District, Li Shui Shi
323000 Zhejiang
China
Factory Wenzhou
Pickup available, usually ready in 2-4 days
6/F, International Chamber of Commerce Building, Renhui Road, Ouhai District Wenzhou
325000 Zhejiang
China
Pick and Place Machine for Small SMT Line or R&D Prototyping 
Solution Kit include below 3 items,
Model: PTR-A300
Max. Printing size: 250*400mm
Work table size: 300*400mm
Max. net frame size: 370*470mm
Thickness of the substrates: 0-80mm
Printer way: Manual
The workbench adjust volume: 10mm, Horizontal and vertical adjustment
Printing platform height: 220mm
Repeated accuracy: ±0.01mm
Locate mode: Benchmark hole or shape
Net Weight: 21kgs
Gross Weight: 22kgs
Machine Size: 540*370*380mm
Package Dimension: 620*450*225mm
Model: PPM-A320VB
Mounting Numbers: 2PCS
Mounting Precision: 0.025mm
Mounting Angle: 0~360°
Mounting Speed: 5500pcs/hour
Suction Nozzle Type: Juki Series Nozzle
Applicable Element:
RC (0402, 0603, 0805, 1206 etc)
LED Lamp Beads (0603, 0805, 3014, 5050 etc)
Chip (SOT, SOP, QFN, BGA etc)
SMD Height: ≤5.5mm (Customize ≤11mm)
PCB Minimal Size: 10×10mm
PCB Maximum Size: 320×450mm
PCB Thickness: ≤2mm
Components Reel Type: 8mm, 12mm, 16mm, 24mm
Front IC Location: 10pcs
Back IC Tray: 1pc
Vibration Stick Feeder: iTECH Customized Feeder (Optional)
X/Y Axis Moving Range: 430×530mm
Z Axis Moving Range: 10mm
Z Axis Rotation Angle: 0~360°
Visual Camera: CCD High-definition Camera
Numbers of Visual: Parts Camera×3, PCB Camera×1
Recognition Capability: MAX. 22×22mm
PC System: Microsoft WIN7
Operational Software: R & D
Compatible File Format: CSV. TXT. Format
Program Method: Support Online and Offline Ways
Air Pressure: 0.4Mpa
Vacuity Degree: -66kpa
Power: 230W
Voltage: AC220V±10% 50Hz
Net Weight: 85kgs
Gross Weight: 114kgs
Machine body Size: L990×W730×H375mm
1#Materials Feeder Outline Size: L235×W700×H245mm
2#Materials Feeder Outline Size: L235×W485×H245mm
Package Dimension: 1340*840*590mm
Model: RF-A250
Voltage: AC220V, 50Hz
Power: 1600W
Heating Method: Infrared Radiation Heating + Hot Air Circulation
Effective Welding Area: 250*200mm
Drawer size: L300*W250*H30mm
Display Mode: Graph Mode or Text Mode for option
Temperature Range: 0℃-280℃
Temperature Curve Zones: Preheated Zone, Heating Zone, Soldering Zone, Thermos Zone and Cooling Zone
Net Weight: 19kgs
Gross Weight: 22kgs
Machine Size: L425×W400×H312mm
Package Dimension: 480*440*390mm
Everyone has many years of international trade experience, we communicate with customers in time and earnestly
Get A Free Quote Now
Please leave the message freely if you have any query, we will reply you soon.